Dr. Maus grew up in New York, NY and attended Massachusetts Institute of Technology for her undergraduate degree in Biology and Literature. She then earned her MD, PhD from the University of Pennsylvania School of Medicine where she studied the biology of human T cell activation under the direction of her PhD mentor, Dr. Carl June. After completing her doctorate degrees, Marcela did a one-year postdoctoral fellowship with Dr. Kathy High at the Children's Hospital of Philadelphia studying patient immune responses to liver-directed AAV-mediate gene transfer as a treatment for hemophilia. She then completed her clinical training in internal medicine, hematology, and oncology as a resident at the University of Pennsylvania Health System and a fellow at Memorial Sloan Kettering Cancer Center. While at Memorial Sloan Kettering, she worked in Michel Sadelain's lab to engineer new genetically modified T cells to target the cancer-testis antigen NY-ESO-1 and received specialized training in Phase I developmental therapeutics. She was also awarded a K08 grant by the NIH to facilitate her transition to a faculty position. Following her extensive training (11 years!), Marcela returned to the University of Pennsylvania in 2012, where she was recruited by her former PhD mentor, to expand their research efforts in the development of CAR T cells for lymphoma, myeloma, and other cancers. While there, Marcela continued her efforts on preclinical development of CAR T cells and correlative studies of CAR T cell-related toxicities and resistance to therapies. They discovered and reported on the first cases of anaphylaxis to CAR T cells and off target cross-reactivity. She also led an entire arc of translational research, from preclinical testing to a first-in-human clinical trial of EGFRvIII CAR T cells for treatment of recurrent glioblastoma. Correlative data collected from this trial led to an understanding of CAR T resistant mechanisms that have led further refinement of these CAR T cells, which is one current area of focus in her current laboratory and has led to the development of another Phase I clinical trial for GBM patients. Now, Dr. Maus is an Associate Professor of Hematology and Oncology at Massachusetts General Hospital and Harvard Medical School, where she runs a laboratory focused on developing and improving CAR T cell therapy for cancer patients while also periodically attending for the bone marrow transplant service. Marcela is the Paula O-Keefe Endowed Chair of the Massachusetts General Hospital Cancer Center and the Director of the Cellular Immunotherapy Program. She has won numerous awards for her transformative research and is achieving her goal of using science to determine the best way to treat patients by harnessing the power of the immune system to solve intractable problems like cancer. She also enjoys training clinicians and scientists and watching her mentees succeed and become independent scientists and collaborators. Marcela is also a mother to three children, one large dog and one gecko. In her free time, Marcela enjoys spending time with her husband, kids, and pets, gardening, and skiing.
Tony was born and raised in Los Angeles, California but has been living in New England for the past few years. He is a recent Brown University alumnus, where he completed his undergraduate studies in Neurobiology. He joined the Maus Lab as a Research Technician in August 2022 and is particularly interested in investigating ways to design CAR T cells that are more effective at targeting solid tumors. He is very excited by the clinical relevance and translational potential of CAR T cells and hopes to pursue a career in oncology in the future. In his spare time, Tony enjoys watching basketball and soccer as well as exploring new restaurants and traveling.
Alexander is from Seminole, Florida. He joined the Maus Lab in July of 2023 following his graduation at the University of Florida with a B.S. in Biomedical Engineering, Magna Cum Laude, and minor in Materials Science and Engineering. Alexander is interested in all-things cellular modulation and enjoys working on projects to improve CAR T cell therapies for solid tumors. Outside of lab, Alexander enjoys exploring Boston with friends, playing sports, and working out.
Amanda grew up in Princeton, MA and graduated from Wachusett Regional High School. She then went on to college at Umass Amherst, where she earned a Bachelor of Science degree in Animal Science/ Biotechnology. She then became a licensed veterinary technician through the state of Wisconsin and received her registered Laboratory Technician certificate through AALAS. Amanda is interested in participating in all mouse experiments, learning new surgical techniques and applying her experience to help better the mouse data. She loves learning new surgical techniques. It is very important to her as the veterinary technician to make sure that our animals get the best care available to them. She also spends time at a farm in New Hampshire volunteering to help a SPF herd of sheep. She gets to learn and participate in C sections and lambing. She loves to spend time with her parents and little brother at her childhood home in Princeton, MA where they have a dog, Gerry, a cat, Ava, and chickens! She lives near the beach and likes spending time there. She also enjoys running and vegetable gardening. She grows everything from basil to butternut squash. She also loves spending time with her 2 cats, Bruin and Whitney. Her best friend succumbed to liver cancer when she was 14. Amanda believes that played a huge part in leading her into the field of cancer research.
Andrea grew up in Charlotte, NC and attended MIT for her undergraduate degree in Biological Engineering. She is now an MD-PhD student in the Immunology program. As a graduate student in the Maus and Birnbaum Labs, she is pursuing her interests in cellular immunotherapy and CAR T cell libraries. In her free time, Andrea loves to dance, bake, and cook lots of Mexican food.
Aiyana grew up in Plainville, MA and recently graduated with her undergraduate degree in Biology and Bioinformatics from the University of Massachusetts Lowell. She joined the Maus Lab as a technician in June 2023 and has been investigating methods to increase the efficacy of and understand/mitigate toxicities associated with CAR T cell therapies. In her free time, she enjoys reading, baking, and exploring the city.
Director of Research Operations
Ben grew up in a small coastal town an hour north of Boston. He has more than 10 years of experience, primarily in finance and administration at academic institutions, as well as strategy and development in early-stage biotech. He holds a Master's in Business Administration from the Isenberg School of Management at University of Massachusetts and a Bachelors in Business and English from the University of Vermont. When Ben isn't working, he can usually be found surfing, skiing, or playing with his dog, Winnie.
Charlotte Graham, MD, PhD
Charlotte grew up in Oxford and studied at University College London for her undergraduate degree before moving to the University of Warwick for Medical School. She completed her medical internship in Oxford University Hospitals, Internal medical training in London, and specialist Hematology training at King's College Hospital, London. She undertook my PhD at King's College London, investigating the use of gene-edited allogeneic CAR T cells in patients with B cell malignancies. She joined the Maus lab and IML for her Postdoctoral training and is currently investigating the mechanisms of cytopenia following CAR T cell therapy. In her free time, Charlotte likes bike rides, barre classes, going to the theatre, and drinking coffee. She has a ginger cat called Spike who has stayed in London.
David grew up in Nottingham, UK and completed his medical training at Imperial College London and Johns Hopkins Hospital, followed by postgraduate work in Newcastle, UK and as a Kennedy Scholar at Harvard University. He undertook his PhD studying T cell immunometabolism with Randall Johnson at the University of Cambridge. He is completing his clinical training in the Mass General Brigham neurology residency program. His postdoctoral work will assess the role of metabolism in immune responses against brain tumors and he will be co-mentored by Dr Marcela Maus (MGH) and Dr Matthew Vander Heiden (MIT). In his free time he enjoys hiking, playing chess and playing live music (piano, bass).
Diane provides administrative support to Dr. Maus and the Maus Lab team. She was born and raised in Brookline Massachusetts. She is a graduate of Colby Sawyer College with a degree in Liberal Arts and holds a Paralegal Certificate from Boston University. Before joining the Maus Lab, Diane worked as a realtor and a paralegal in the Boston area. She enjoys spending time with her husband, three children, and Labrador retriever. Some of her hobbies are golf, swimming, painting, and listening to podcasts.
Visiting Undergraduate Student
Diego Salas-Benito, MD, PhD
Diego grew up in Spain, in a little town near to Madrid, Cuenca, in the middle of Castilla. He went to the School of Medicine in Universidad Autónoma de Madrid, in Spain. He did his residency in Medical Oncology and got his PhD at Clínica Universidad de Navarra. Now he is a research fellow in cell therapy for solid tumors, mainly ovarian cancer. Diego's project is to identify immunoresistant mechanisms and overcome them to improve the efficacy of cell therapy for ovarian cancer with CAR-T cells. In his free time, he likes to read, go to the mountain, or get a beer with friends.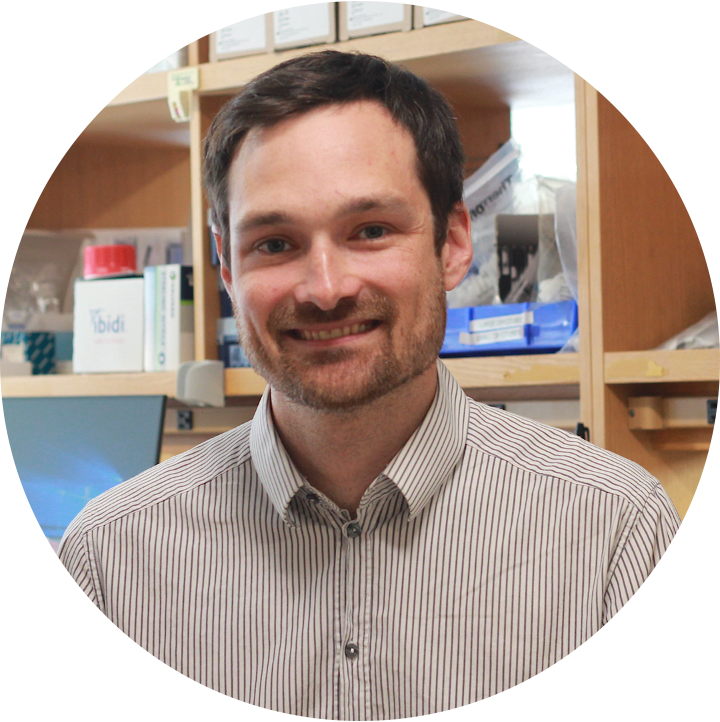 Eli is from Chapel Hill, North Carolina. He completed his undergraduate degree at Earlham College (Richmond, Indiana) before moving west to spend several years as a research technician in an immunology lab at UCSF. He migrated back to the Midwest to attend medical school at the University of Chicago, moving yet again to do his internal medicine residency training at MGH. He is currently an upper-level fellow in the MGH/Dana-Farber medical oncology program. Eli joined the Maus lab in 2022 to pursue his interests in cellular therapy, lymphoma, and translational investigation. In the lab, he works on novel cell therapy techniques to circumvent resistance in hematologic malignancies, as well as translational analysis of T cell exhaustion in cellular therapy patients.
Emily is a joint member of the Maus and Jan labs. Emily is originally from Fairfax, VA and graduated from Princeton University ('18), where she studied Chemical and Biological Engineering. After undergrad, she moved up to Boston to work as a research associate in a cancer immunology lab at the Broad Institute. She is now an MD/PhD student in the Harvard-MIT program, working towards her PhD in Immunology. Outside the lab, you can find her hiking, skiing, cooking, and exploring Boston.
Emily was born and raised in New England and obtained her undergraduate degree in Biology from the University of Rhode Island before heading to Harvard for her Master's. Since the Maus lab joined MGH, she has taken on a wide spectrum of roles to ensure that the lab runs efficiently while it continuously grows and evolves. In her free time, Emily can be found on the on the beach or walking her dog through the woods.
Felix is a physician from Germany and is currently working as a fellow in the Cellular Immunotherapy Program at MGH. He spent his childhood in his home city of Munich and in Düsseldorf. After completing his pre-medical studies at the University of Marburg, he earned his medical degree at the University of Duisburg-Essen in 2018. Since then, he has been a resident in Hematology and Oncology at the University Hospital Heidelberg. In the Maus Lab, Felix aims to improve the design and further evaluation of next generation CAR T cells as immunotherapy for patients with cancer while also trying to enhance their functionality and widen the field of application. His favorite activities are skiing and hiking. His favorite quote is "Things are only impossible until they are not."
Filippo grew up in Ligurian Riviera, Italy. He graduated in Biotechnology and later in Medical and Pharmaceutical Biotechnology at the University of Genova (Italy). In 2017 he joined Luigi Naldini's Lab at the San Raffaele Telethon Institute for Gene Therapy (Milan, Italy) for his PhD. During his experience in Naldini's Lab, he focused his studies on the development of an inducible tumor-targeted delivery gene therapy platform for the treatment of Glioblastoma. Currently, he is working on novel chemokine-based technologies to increase the infiltration and function of CAR-T cells in solid tumors. He is a foodie, and he likes to think he is the best Italian cook in town. He is crazy about any type of treasure hunt: mushroom hunting, vintage stores, crime investigations, and obviously research!
Director of Preclinical Research
Giulia grew up in Milan, Italy, where she graduated in Medical Molecular and Cellular Biotechnology at Vita-Salute San Raffaele University. Since her early days in biomedical research, she has been moved by the desire to develop innovative therapies for cancer. For her PhD, she joined Luigi Naldini's lab at the San Raffaele-Telethon Institute for Gene Therapy (Milan, Italy), where she developed a new gene therapy strategy to target immuno-stimulating genes into tumors. In 2018, Giulia moved to Boston for her post-doctoral studies in Ana C. Anderson's lab. Over these years she trained as a tumor immunologist and studied the biology and role of TCF1+ stem-like T cells in sustaining effective anti-tumor responses upon immune checkpoint blockade therapies. She is now committed to leveraging her expertise in tumor immunology and immune cell genetic engineering to develop better adoptive T cell therapies. In 2023, Giulia joined Marcela Maus's laboratory as Director of the Pre-Clinical Research where she will contribute to the development of clinical trials using CAR-T cells for the treatment of pancreatic and breast cancers. In her free time, Giulia loves traveling, kayaking, and spending time with her friends and her two cats, Athos and Aramis, named after the musketeers.
Hannah is from Bethesda, Maryland is currently an undergraduate student at MIT studying biological engineering. In the Maus lab, she is involved in projects developing novel strategies to improve CAR T cell performance in solid tumors. In her free time, Hannah enjoys diving for the MIT varsity swim and dive team and biking around Boston.
Hannah grew up in mid-coast Maine and obtained her undergraduate degree in Biology from Husson University. She spent much of her upbringing in veterinary clinics and worked full-time in emergency veterinary medicine after graduating college. Hannah moved to Boston in January 2023 and joined the Immune Monitoring Laboratory as a Research Technician in order to begin her career in research. Working within the IML has provided her with a much needed change of pace! Outside of the lab, Hannah enjoys running, exploring new restaurants, and dog walking in the Boston area.
Hana was born and raised in Los Angeles, California. She completed her undergraduate studies in Chemistry (Biology track) at Brown University. She started as a Technician in the Maus lab in July 2022 and has been loving the fast-paced nature of the laboratory thus far. She is working primarily on developing solid-tumor CAR T cell therapies. During her spare time, Hana loves exploring Boston, running, and reading/watching true crime.
Director of the Immune Monitoring Lab
Kathleen grew up in Bath, UK and obtained her PhD from Cardiff University in Wales. She directs the Immune Monitoring Laboratory. The laboratory provides expertise to enable translational clinical studies of immune-based therapies, based on the highest standard operating systems. Assays are executed by a team of experts specializing in immune profiles of disease and analysis of immune testing and response. A cancer immune monitoring platform provides the equivalent of immune system pharmacokinetics and pharmacodynamics, in addition to providing mechanistic data on patterns of toxicity, resistance, and efficacy. In her free time, Kathleen likes kayaking, playing music, dancing salsa and bachata and rock climbing.
Kiana was born and raised in the Bronx, NY, and has lived in Massachusetts for a few years. She completed her A.S. in Biotechnology from Bunker Hill Community College and transitioned from intern to Research Tech in the IML. After completing her year here, she will return to school in the fall to complete a degree in Biochemistry. She enjoys traveling, baking, and Beyonce.
Clinical Research Project Manager
Lu grew up in Jiangxi Province in China and went to college at East China Normal University in Shanghai, China. After getting her bachelor's degree in Biotechnology, she went to Fudan University in Shanghai to obtain her master's degree in Genetics. After that, Lu came to the United States to pursue her PhD in Molecular Cancer Biology at Duke University in Durham, North Carolina. Upon getting her PhD, she started a postdoctoral fellowship in Cancer Immunology at MD Anderson Cancer Center in Houston, Texas. Lu has been very interested in clinical research and regulatory affairs since graduate school, so she was very excited to start this job as a clinical research project manager at Massachusetts General Hospital and help Dr. Maus initiate and manage CART cell therapy clinical trials. Lu has two young kids and enjoys singing, playing piano, reading books, and doing art projects together with them in her spare time.
Regulatory Program Fellow
Magdi grew up in Mansoura, Egypt, where he also attended college and medical school. After that, he moved to Berlin, Germany, for his Ph.D. in regenerative therapies. Prior to joining the Maus lab, Magdi held a number of positions in good manufacturing practice (GMP) facilities, including production manager and regulatory affairs specialist. He is interested in process development, manufacturing, and the regulation of cell and gene therapies. Currently, he is working on the distributed manufacturing of CAR T cells and the process development of exciting new CAR T cell innovations. In his free time, Magdi enjoys photography, cooking, and drumming.
Mark grew up in Tucson, Arizona and completed undergraduate degrees in bioengineering, biochemistry, and molecular biology before heading to Georgetown for medical school. He did his residency training in internal medicine training in the Johns Hopkins Osler program before matching into the joint medical oncology fellowship at MGH/DFCI. During his first year of fellowship, he developed an interest in bone marrow transplantation and cellular therapies and joined the Maus lab in 2018 with a focus on acute myeloid leukemia as well as translational investigations into FDA approved CAR-T cell products. He now splits his time between the lab and caring for BMT and CAR-T patients. 
A former Sweetgreen 'black status' achiever and member of the salad bourgeoisie –Mark was devastated to learn about the dissolution of the Sweetgreen loyalty program and is now reduced to independently trying to manage his habit. When he's not in the lab you will invariably find him doing something active involving weights +/- buried deep in a thought-provoking audiobook.
Merle grew up in the small town of Gower, MO. He then attended college at Missouri Western State University and earned his bachelor's degree in Chemistry and Mathematics. He is now a PhD candidate in the Program in Biological and Biomedical Science at Harvard Medical School. He joined the Maus lab in January of 2022 and is interested in using synthetic biology to generate CAR T cells that overcome barriers to long-term proliferation and persistence, such as T cell exhaustion and antigen-dependent proliferation. In his spare time, Merle likes to paint, read, and explore the greater Boston metro area with his partner and their min-pin, Frtiz.
Research Animal Technician II
Sadie grew up in Ludlow, MA, and attended UMass Amherst where she completed her undergraduate studies in Biology. She joined the Maus Lab as a veterinary research technician in July 2023 and is interested in learning about animal research and surgical procedures. In the lab, she makes sure to prioritize the proper treatment and care of animals through continuous practice and improvement of her technique. In her free time, Sadie enjoys lifting weights, reading horror novels, and drawing. She also loves to cook while watching "Anthony Bourdain: No Reservations" for inspiration.
Tamina grew up in Lagos, Nigeria. He attended North Carolina Central University for his undergraduate studies and is now a 4th year in the MD-PhD program at Harvard Medical School. Tamina's project focuses on understanding and manipulating programmed cell death pathways to facilitate tumor killing with CAR T cells. In his spare time, he enjoys writing, dancing, and playing soccer.
Director of Scientific & Medical Communications
Trisha was born and raised in Wisconsin before attending Northern Michigan University for her bachelor's and master's degrees in Biochemistry and Biology. After completing her PhD in Cancer Biology with a focus in tumor immunology at the University of Colorado Anschutz Medical Campus, Trisha did two postdoctoral fellowships, one also at the University of Colorado and one at Fred Hutchinson Cancer Research Center. She has a strong interest in tumor immunology and immunotherapy. Now, Trisha is realizing her dream of helping to translate therapies from the laboratory to the clinic as a Medical Writer and the Director of Scientific and Medical Communications for the Maus Lab. In her free time, Trisha likes to hang out with her husband and two dogs — hiking, downhill skiing, uphill skiing, or spending time on the water.
Valentina was born and raised in West Palm Beach, Florida, and completed her undergraduate degree in Biomedical Engineering at the University of Florida. She joined the Maus lab as a technician in August 2022 and has been involved in work evaluating novel CAR constructs targeting solid and liquid tumors. In her time off, Valentina loves to spend her time on the water kitesurfing or in the mountains hiking, skiing, or mountain biking. You can also catch her enjoying a sunset run or picnic on the Charles River!
Won-Ho grew up in Amherst, MA, and attended Yale College for his undergraduate degree in Molecular, Cellular, and Developmental Biology. He started working in the IML lab in June 2022 as a research technician and is interested in epigenetic mechanisms of CAR-T functional impairment in B-cell lymphomas. His hobbies include playing soccer and reading.

Zandra grew up in Skaneateles, NY in the Finger Lakes of upstate NY. She studied chemistry at Amherst College and spent two years in a translational oncology lab at Dana-Farber following graduation. She completed her MD-PhD at the University of Pennsylvania, mentored by Chi Van Dang, MD-PhD for her PhDon cancer metabolism. She completed Internal Medicine training at MGH and is currently a rheumatology fellow. She is interested in cell engineering approaches to autoimmunity. Outside of the lab and hospital, she loves to run and sail.